The Truck
There's a new truck in town. It's not an 18-wheeler, nor a 4 wheeler. It's  the 1GHz dual-core iPad.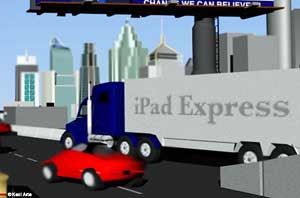 I picked up the word 'truck' from some very bright tech journalists at Twit TV. A truck, as they (Leo Laporte, Alex Lendsay and Andy Ihnatko) have described it is a fast, powerful workhorse/workstation of a computer. Think 12 core Mac Pro for the 18 wheeler model.
Some on us who don't have to haul heavy cargo, like 12 channels of audio and 4K video have a smaller, more nimble truck to move our goods. The goods we're trucking are ebooks and the ancillary processes that go in to their creation. The second generation iPad with the addition of some powerful apps is moving it from a consumer solidly into a prosumer device.
In the place of big rig computers, the iPad is being backed up to loading docks of book publishers, authors, designers and illustrators.
Options for the Book Publishing Industry
Publishers have a host of office, finance, analytics and database apps to help them plan and track their titles. Authors have at their fingertips dictionary/thesaurus apps, outlining/mind mapping, screen writing and endless research via wi-fi or 3g while at their favorite coffee shop. For serious authoring on an iPad, a wireless Bluetooth keyboard is advised. For the book designer, there are apps for mockups, sketching, fonts and more. The iPad is increasingly the tool of choice for the artist/illustrator. The iPad, coupled with a stylus, is a super portable easel. The pinch and zoom plus panning features allow the artist to create minute detail. Art apps sporting natural media brushes make painting on the iPad a dream. If you need vector tools for a floor plan or illustration, there are apps for that.
Building Books on the iPad
Last, but certainly not least are the apps being developed for creating books directly on the iPad. Leading the way are Book Creator and Demibook Composer, which allow you to create fixed layout ebooks. Demibook composer has the distinction of creating interactive books.
The iPad has not entirely displaced desktop and laptop computers for book creation, but it is a great alternative for book publishers running to keep up with the changes burrowing down the streets of their industry.