iPhone 4s
Apple's highly anticipated announcement of the iPhone 4s and iOS 5 is now in the record book. This time, however, no records were broken. Having said that, there were some impressive additions and upgrades to the Apple brand.
Instead of saving the biggest news for last as Tim Cook and his team did, I'll get to the major features first.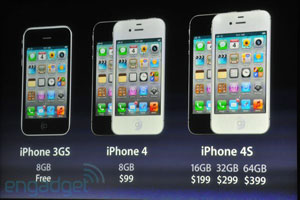 On the hardware side, the iPhone 4s was the breaking news. There was no iPhone 5. The iPhone 4s uses a dual core A5 processor. That's just some geek jargon that means that the phone is powered to provide more features to its software, which I'll discuss in a moment.
The camera is 8 megapixel, which almost eliminates the need for a consumer to have a standalone camera. Those features include auto focus, auto iris, noise reduction and image stabilization. With a 3664 x 2448 pixel resolution, it might be difficult to take a bad picture. Of course I'm referring to the technical side and not issues like composition, subject matter, etc..
The iPhone 4s prices are:
16 GB • $199
32 GB • $299
64 GB • $399
Previous iPhone models are now priced at:
8 GB iPhone 4 • $99
8 GB iPhone 3 GS • Free (Take that Kindle Fire)
In my opinion, the most impressive news from Apple came with the release of iOS 5.
Voice Assistant
Voice Assistant will be like having your personal administrative assistant in your pocket (no offense to administrative assistants). You can now speak to your phone to have it send and read text messages, make appointments, find restaurants, take dictation and a host of other commands. I can imagine Apple will make the user sign or acknowledge their terms of service before enabling Voice Assistant. Think; the 'auto correct' feature for typing text on your phone. Look twice before you send that important email to Amazon CEO Jeff Bozos…oops Bezos. With the potential speed and delivery of auto correct for voice, you might have some serious explaining to do if the wrong message goes out to the wrong person.
Hidden in the iPhone 4s and iOS 5 announcement are potentially exciting new features for developers of interactive books. I'll need to research it more before giving my predictions.
iCloud
Apple also gave more details about its iCloud service. The Dropbox-like service will launch near the end of October and offer 5 GB of free on-line storage for all iOS 5 users.
Before the announcement of the iPhone 4s and iOS 5  was made, Apple kept attendees (both in person and on-line) waiting while they told how great they were in increasing their market share on many technological fronts. One event attendee joked that during their long dog and pony show, they heard Angry Birds throughout the auditorium. In light of no breakthrough products to present, I guess that was Apple's way to remind everyone that they were already great.