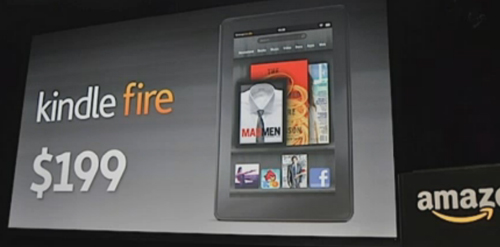 A Wall Street investment adage says, 'Buy on speculation, sell on the news'. Speculation for the new Amazon tablet said that the it would initially be priced at $249. The day preceding the official Amazon launch, some of the speculators moved their predictions up to $299. Amazon silenced all the prognosticators today when they unveiled the $199 Kindle Fire! I'd say that's a buy and hold.
Before announcing the Fire, Jeff Bezos, founder of Amazon, previewed three new Kindle models. Kindle Touch 3G for $149, Kindle Touch for $99 and a stocking stuffer Kindle for only $79.
I watched live blogging of the event streamed from tech attendees. I was listening carefully to learn what features and technologies the Kindle Fire offered for displaying interactive books. I didn't hear any specifics from posts of the stage presentation. There are, however, indications that the Fire will be interactive-book-friendly. With its color touch screen and video capability, there seems to be no reason it would not also support multimedia ebooks.
The missing pieces of the puzzle, at least with independent ebook producers, are interactive content creation tools. Because the Kindle brand has established itself as a premier reading device, I can imagine they have been working with developers to create such tools. However, as mentioned in a previous post, Kindle has a propraritary operation system based on a forked Android. That would hinder or eliminate cross-platform development.
Is the Kindle Fire a device on which one can read interactive books? I'm not sure. However, if it is, I suggest designers think seriously about developing content for this platform.