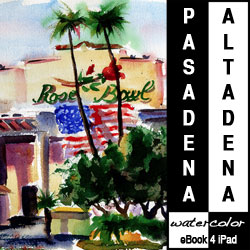 Here's a real-life example of how I've begun promoting my ebook, aDena Dena. I trust this will be useful in you promoting your ebook.
This past weekend, I began promoting my ebook aDena Dena. I introduced the ebook at a small festival in my home town. Leading up to the event, I placed a full-page color ad for my ebook in a business directory of the sponsoring organization. Since this was an ebook, I made a mock-up of it, about the size of a paperback trade book, which I showed to people who stopped by my booth. I also had half-page flyers for people to take away with them. It was reported that approximately 2,000 people attended the event. Of that number, I probably interacted with 100. All of the handouts, the ebook mock-up as well as the ad had the url for the book.
Over the following two days, I checked the stats for aDena Dena here on thebooklands.com to find out how successful this campaign had been. I was not impressed with the initial numbers. However, I expect to get a few more hits from people who received the information, but took their time to respond to it. The bottom line though; will they make a purchase? I believe they will.
My next plan of action was to list thebooklands.com on search engines, as this is a new site. For that, I turned to my internet service provider who has automated the process for its clients. I recall doing this years ago and having to visit each search engin site and list it one at a time. How tedious that was.
After choosing key words for my site and providing additional pertinent information, I submitted the site to the major search engines which included Google, Bing, Yahoo, Ask, AOL and others.
Next, I created a Google Ad campaign. Since aDena Dena is an e-book featuring only plein air paintings of Pasadena and Altadena, CA, I limited the ad to regional exposure. I set the cost per click in the middle of Google's recommended range and limited the number of times it would display to the same ip address.
I picked a start date a few days out in order to review my site to be sure everything is order and easy for potential buyers to make a trouble-free purchase. This will also give Google time to review and approve the ad.
Alas, I continue this shameless promoting of aDena Dena by writing this article.
I hope this information adds something new, refreshing or useful to your storehouse of knowledge for promoting your ebook.
If you have any tips to help us, please leave a comment.